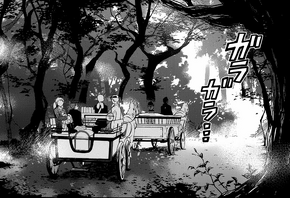 The Werewolves' Forest, sometimes called the "Cursed Forest,"[1] is an ominous, occult forest located in Southern Germany; it is regarded as a taboo by the inhabitants nearby.[2] Sieglinde Sullivan proclaims herself as the lord of this forest.[3]
Overview
The dark, misty forest is covered chiefly by trees and undergrowth. Compasses are rendered useless within it.[4] Sebastian Michaelis notes that it is eerily silent, has a startling lack of animals, and contains a disconcertingly heavy atmosphere.[5] An oppressive miasma embraces the area, and is somehow connected with the Witch's Curse (see below).[6]
The village crone stalks the vast area to warn intruders about the werewolves that supposedly protect the forest. Intruders who do not heed the hag's warnings would often encounter a werewolf and contract the Witch's Curse.[7]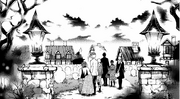 A certain village, Wolfsschlucht, is located in the midst of the forest, consisting of a cluster of country cottages that look to be abandoned at first glance, but are well-maintained.[8] Women constitute the entirety of the residents; these women dress in 16th century German clothing.[9] They recognize "Master Sullivan" as their lord.[10]
Witch's Curse
A peculiar condition affects people of different age and gender who have entered the Werewolves' Forest. Perfectly healthy people would suddenly become grotesquely deformed;[11] their faces would swell and their skins would appear to "melt,"[12] and would usually die afterwards. There are no signs of wounds or a contagious or chronic disease going about, but locals have claimed that it is the "witch's curse" at fault.[13] Reportedly, there is one survivor of the "witch's curse," but has become irremediably insane.[14]
If one one is to see the werewolf in the forest, he would begin to shed tears uncontrollably.[15] Blood would swiftly ensue, and the skin would distend and develop odd bumps.[16] Later, Sieglinde Sullivan discloses that the mysterious miasma in the Werewolves' Forest embodies the "evil spirit" that the werewolf emits. Upon contact, it has detrimental effects, and the only thing that can purify the curse is a secret medicine made by the Emerald Witch.[17]
See also
References
Community content is available under
CC-BY-SA
unless otherwise noted.