Kuroshitsuji Musical: The Most Beautiful DEATH
in the World
千の魂と堕ちた死神
(
Sen no Tamashī to Ochita Shinigami
- A Thousand Souls and A Fallen Grim Reaper) is a second run for the
second musical
with the same title. It premiered on May 2013.
Synopsis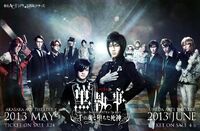 See Synopsis
Summary
See Summary
Characters
Sharpe Hanks

Sharpe Hanks is a policeman who asks Fred Abberline in the Kuroshitsuji musical, The Most Beautiful DEATH in the World if he is with the Scotland Yard. He also calls Fred "Underline" and thought that it was his surname. Eventually the two became friends when Hanks calls Fred "ago no line". He appeared in the Remake and Lycoris that Blazes the Earth.
Personality
Sharpe and Fred (who is like his manga counterpart) have things in common like their small facial hair/chins. Hanks was also always told that his chin looks like a butt. They become the duo "Abberline Sharp/ago no line Sharp" which is the ongoing joke about their chins because their names together are a pun in Japanese. Later, they became partners in crime.
References
Gallery
Community content is available under
CC-BY-SA
unless otherwise noted.