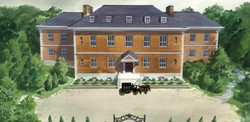 The Phantomhive townhouse is the base of operations of the Phantomhive family in London. It is only used by members of the Phantomhive family during the Season or when they have to investigate a case in London, such as the Jack the Ripper and Sphere Music Hall Gatherings cases.
The security of the townhouse is dubious since Angelina Dalles, Grell Sutcliff, and Lau were able to trespass the townhouse in search for tea.[1]
History
From August to November 1888, Ciel Phantomhive stayed with Sebastian Michaelis, Angelina Dalles, Lau, and Grell Sutcliff in the townhouse as he was tasked by Queen Victoria to find the culprit behind the Jack the Ripper killings.[2] During Ciel's stay, specifically on the last day of the Season, he and his companions attended a party hosted by Aleistor Chamber to find out if he was Jack the Ripper.[3]
Only a month after concluding the investigation on the Jack the Ripper case, Ciel and Sebastian had to return to London to look into yet another case: the mysterious Anglo-Indian Hangings.[4] This time, Ciel and Sebastian were joined by the rest of the Phantomhive household as well as by Soma Asman Kadar and his butler Agni. And when it became apparent that Soma and Agni had no intention of leaving England and returning to Indian, Ciel put them in charge of the townhouse.[5]
In February 1889, Ciel and Sebastian briefly stayed at the townhouse while investigating the correlation between the visits of the Noah's Ark Circus and a string of kidnappings.[6]
They did not return to the townhouse until September 1889 when Queen Victoria ordered Ciel to inspect the peculiar Sphere Music Hall which is, coincidentally, the last place Ciel's fiancée Elizabeth Midford had been seen for the last time before her disappearance.[7]
On November 15, 1889, while Ciel and Sebastian were away, the townhouse was attacked by two unknown assailants.[8][9] The assailants managed to injure Soma[9] and murder Agni who died protecting his master.[10] Some time later, Ciel and Sebastian returned to the townhouse and found it in chaos, and their allies hurt and dead.[11] Then, they searched the building for any clues to determine if the attack was an act of revenge or an ordinary burglary.[12] Eventually, they headed to Ciel's bedroom where the words "Who stole the candy from my tummy?" were cut in the wall.[13]
Shortly afterward, Ciel and Sebastian left the townhouse and brought Soma to Sieglinde Sullivan before returning to Phantomhive Manor.[14]
References
Community content is available under
CC-BY-SA
unless otherwise noted.