Patrick Phelps (パトリック・フェルプス, Patorikku Ferupusu) is the son of a distinguished shipbuilding magnate.[1] He is also a board member and the trading division supervisor of the Blue Star Line Company, where he focuses on shipbuilding and freight transport.[2]
Appearance
Patrick has short, blond hair and green eyes. He is well-dressed; he typically wears a black tuxedo with a bow tie.
Personality
Patrick is, generally, a quiet, timid and mild-mannered individual; he is easily flustered and unsure of himself. Though he is identified by Arthur Conan Doyle as a prestigious individual, Patrick is meek and submissive to other powerful individuals, as he had visibly shaken in Karl Woodley's presence and was in awe of Lau.[3] When Patrick had failed to show up to dinner at Phantomhive Manor, the other guests were virtually unaware of his absence; it only became distinguishable when there was an extra plate set aside, and even then, they described him as so "inconspicuous" that his non-attendance nearly went unnoticed.[4]
Plot
Phantomhive Manor Murders Arc
Patrick is invited to a party thrown by Ciel Phantomhive and mingles with Karl Woodley, in particular.[5] He and the other guests exchange greetings and commence introductions. Patrick exclaims in surprise when Ciel discloses that Lau is the manager for the Shanghai trading company, Kong Rong. However, Lau sharply glances at Patrick, and he lapses into a silence.[6] In the midst of the festivities, Patrick and the other guests hear Georg von Siemens scream, and they run to his room. Inside, they discover Georg's corpse. The horror of it causes Patrick to faint.[7]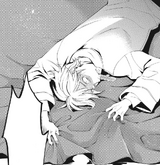 Patrick was assigned the room next to Georg's, but he adamantly refuses to sleep in there. Sebastian Michaelis, then, allocates Ciel's room for his use.[8] At dinner, Patrick fails to show up, leaving his plate unattended. The guests decide to investigate Ciel's room; Arthur Conan Doyle pounds on his door, but Patrick does not answer. After Charles Grey cuts it down, the guests find Patrick's corpse on the bed.[9] The clock Patrick has broken at his time of death, while writhing in pain, signifies that he has died around 2:38 AM.[10]
It is later revealed that the murderer of Patrick Phelps is Snake, who by mistake, had thought that Patrick was Ciel and sent his snakes to poison him while he was lying in bed. While dying, Patrick called for help from Sebastian, who was in the same room at the time. Nevertheless, Sebastian had completely ignored him and pursued Snake instead.[11]
References
Community content is available under
CC-BY-SA
unless otherwise noted.