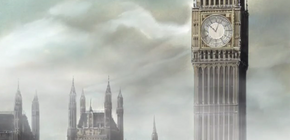 London is the capital of the British Empire and the primary base of operations for numerous residents of England, most notably Queen Victoria.
Overview
London is the capital city of England and the United Kingdom and the largest metropolitan area in the country. Located near the River Thames, it is a global city that prominently thrives in arts, commerce, education, entertainment, fashion, finance, healthcare, media, professional services, research and development, and tourism and transport.[1]
Season
May through August, when the weather is at its best, is known as the "Season," and aristocrats leave their manors to their London townhouses in order to attend social events.[2]
Locations
Smiths' Olde Sweet Shoppe
Other places:
Harold Trading — a general store owned by Harold West Jeb[29]
Harold West — a Hindustani coffeehouse owned by Harold West Jeb[29]
Lyceum Theatre — in March 1889, it showed the play The Lady of the Lake[30]
Saint Sophia Academy[31]
Unnamed cane shop — owned by the shopkeeper[32]
Unnamed coffeehouse in Piccadilly Circus[33]

Watson Cafe
[34]
Angel's Wing Antiques is a puppet store that Drossel Keinz runs for his master, the Earl of Mandalay. There, apart from small dolls, other little knick-knacks can be purchased.[35]
Mandalay Manor is the base of operation of the Earl of Mandalay, Drossel Keinz' master. It is located behind the Angel's Wing Antiques.[35]
Turner's Photographs is a photography studio. It is owned and run by Mr. Turner and his wife Margaret Turner.[36]
Trivia
Out of Universe
The real Daunt Book Store was originally called "Francis Edwards" and opened in 1912. The bookstore was renamed "Daunt Books" when James Daunt bought it in 1990.[38]
The real Globe-Trotter Company was founded in 1897[11] by David Nelken in Saxony, Germany. It only moved to the United Kingdom in 1932.[39]
Smiths' Olde Sweet Shoppe may have been modelled after Mr. Simm's Olde Sweet Shoppe, a store chain which sells confectionery in Victorian-style stores since 2004.[40]
Community content is available under
CC-BY-SA
unless otherwise noted.