Welcome

Dear honourable guest:
Welcome to the Devil's Lair known as Kuroshitsuji Wiki, a comprehensive database devoted to Yana Toboso's devilishly popular series, Kuroshitsuji (黒執事, Black Butler). We thank you for favouring us with your company, and we invite you to contribute.

(Please keep in mind that, should you quote, paraphrase, and/or copy verbatim the text on the wiki, you must credit the wiki.)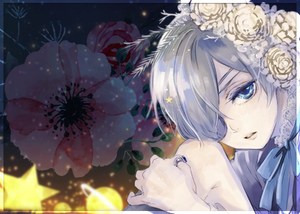 Navigation
About this wiki • Community • Policies • Administrators • Categories • Images • Templates • Help
WARNING

: This wiki contains a plethora of spoilers related to the Kuroshitsuji series, including information from chapters not yet released in tankōbon format. Read at your own risk.

Characters

Locations

Phantomhive Times
HAPPY PRIDE MONTH 🌈
Important Notice: Always upload images of high quality, i.e. in .png format. This wiki does not accepts images in .jpg format; such images will be promptly deleted, without question. Existing .jpg images on this wiki will eventually be replaced with their .png alternatives.
Did you know? Since December 2013, Kuroshitsuji Wiki has a Twitter account! We will keep you updated with the latest news about the Wiki and the series itself!
Follow us: @BlackButlerWiki
Follow MasterLau: @vualau
Follow Tsuminohime: @himarin__
Since June 2018, Kuroshitsuji Wiki has a Discord server! ☎️ Click here to join our discussions! 💬
How to help: Please consider contributing to the Missions. They are aimed at improving the articles of this site. The Revision & Reference, Image, Manga, and Anime Missions are in need of active and dedicated helpers.
Policies: Please ensure you are familiar with Kuroshitsuji Wiki's policies, for they will be enforced. You can find them assembled at this link.
Main article: Kuroshitsuji Wiki:Phantomhive Times

Affiliated Wikis
Want to affiliate with us? Please contact us here.

Most Recent Chapter
Baldroy still struggles with his new life at Phantomhive Manor...


Most Recent Volume

Discord
Join our Discord
to mingle with fellow
Kuroshitsuji
fans, discuss the latest chapters, assign yourselves fun roles, purchase special items, climb the social hierarchy, and much more!

Twitter
Community content is available under
CC-BY-SA
unless otherwise noted.