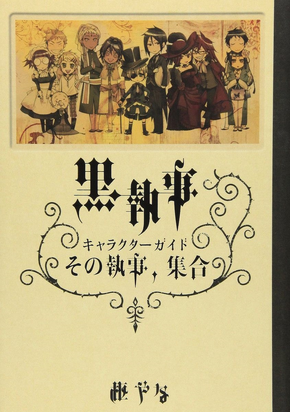 Kuroshitsuji Character Guide "His Butler, Assembles" (黒執事 キャラクターガイド その執事、集合 Kuroshitsuji Kyarakutāgaido "Sono Shitsuji, Shūgō") contains in-depth information on the most relevant Kuroshitsuji manga characters.
Statistics
Release date: February 27, 2008
Released in: Japan
Publisher: Square Enix
ISBN: 978-4757525054
Page number: 175 pages
Characters Included
The characters covered in His Butler, Assembles are listed below in the order in which they are discussed.
Contents
An exclusive chibi artwork of Kuroshitsuji Characters.
A diagram showing how the characters are related to and interact with each other.
In-depth character guides, including highlights of scenes, questions answered by the character through Yana and highlights of the character's personality. The character guide goes through the characters in the order detailed above.
Art work including character sketches.
Yana Tosobo section, including an interview with her.
Encyclopedia.
Black versus red versus yellow: a best British butler section.
Cult quiz.
Character type quiz.
Community content is available under
CC-BY-SA
unless otherwise noted.