The Kuroshitsuji Character Guide "His Butler, Assembles" (黒執事 キャラクターガイド その執事、集合 Kuroshitsuji Kyarakutāgaido "Sono Shitsuji, Shūgō") is a guidebook containing in-depth information on the most relevant Kuroshitsuji manga characters. It also features concept sketches and comments from Yana Toboso as well as several quiz-style games. The guidebook is only available in Japanese.
Contents
Included in the guidebook: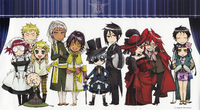 Exclusive character artwork
A diagram showing how the characters are related to and interact with each other
In-depth character guides, including highlights of certain scenes, questions answered by the character through Yana, and highlights telling of a character's personality. The character guide examines characters in the order detailed below
Art work, including character sketches
A Yana Tosobo section, including an interview with the mangaka
An encyclopedia
Black versus red versus yellow: a best British butler section
A cult quiz
A character type quiz
Characters Included
The characters in His Butler, Assembles in order of appearance:
Community content is available under
CC-BY-SA
unless otherwise noted.