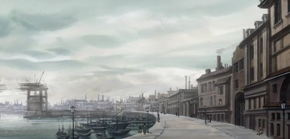 The East End is a dark area in London, England plagued with poverty and crime. It is the designated place where people involved with the multinational underworld gather.[1]
Geography
The East End is composed of clusters of buildings adjacent to one another with winding streets. The breaches in the buildings appear to serve as alleyways. The walls are dilapidated, and there are wooden boxes and barrels along the streets.[2][3]
Manga's Synopsis
Indian Butler Arc
Ciel Phantomhive, the one who has the power to control and manage things in the underworld, is called by Queen Victoria to investigate the majority of the smuggling Indians who have a stronghold in the East End. As it is difficult to identify the route and exact number of smugglers, Scotland Yard is clueless as how to deal with a dark street like the East End thus Ciel decides to make a move based on his own accordance.[1][4]
In order to attain information quickly about orientals, Ciel asks Lau whom has strong influence around the East End. Lau's responsibility is to manage the number of people who moves in and out that street.[5]
Ciel, Sebastian Michaelis, and Lau has traveled to the East End, searching for the stronghold of Indian people. There they encounter impoverished Indians whom demand for money. Generally aloof and raucous, they tend to go by numbers, all of them boisterously challenging and taunting Ciel, Sebastian, and Lau. They have come to despise nobleman as they allegedly abandoned them to live like "miserable gutter rats" and offer to give them a taste of humiliation.[6]
However, when Soma Asman Kadar and Agni realize that the Indians have provoked a fight without reason, Soma orders Agni to deal with the Indians which the latter does effortlessly.[7]
Afterwards, Ciel and Sebastian deliver the Indians to Scotland Yard.[2]
Trivia
References
↑ Kuroshitsuji manga, Chapter 15, page 19
↑ Kuroshitsuji manga, Chapter 15, page 8
↑ Kuroshitsuji manga, Chapter 15, page 14-15
↑ Kuroshitsuji manga, Chapter 15, page 18-20
↑ Kuroshitsuji manga, Chapter 15, page 29