TW / mentions of suicide, misgendering, Sebac!el
Grell has always referred to herself with she/her pronouns and feminine terms, has always wanted to have female reproductive organs, was shown to be jealous of women with feminine body features (you know when Sebastian had an "appointment" with Beast? Grell later said if that's what Seb likes, she'd be willing to curl her hair.), and very much shows many symptoms of gender dysphoria. In addition, since we found out Shinigamis are humans who ended their own lives and now are punished for it, there's a theory going around that she committed it because she couldn't have kids or other trauma related to gender identity. I also have images from the extra pages in the BB manga to back it up. Obviously this isn't the best MTF rep in anime/manga (because she also gets misgendered by the other characters countless times, but are you gonna trust the bystanders or the first person?) so not everyone noticed it immediately, but as of right now, this can't be more obvious, can it be?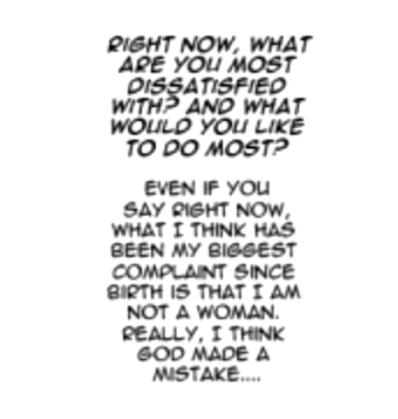 If this bit from Grell's confessional in Volume 2 doesn't open your eyes even a little bit then I don't know what does.
But no, this fandom is so stuck in 2010 that these people keep pushing their "Gwell ish a dwag boi" agenda and straight up close their ears instead of educating themselves. In my opinion, Grell misgenderers are the second worst group in the BB fandom, with only S*baciel/Cl*udelois shippers above them. There are still people who WILLINGLY dismiss all of this just to feed their little ships and it's amazing how uncomfortable it can make me (I'm cis by the way). Nowadays, a lot of people see her as a comfort character because there are real, non-2D people who share her struggles and experiences and all of this discourse is disrespectful not only to this character, but also to hundreds, thousands, millions of real people.
And no, don't get me started on the "well, let's keep their articles with gender neutral pronouns because it's still all unknown!". You're not the L Lawliet you think you are. Stop trying to be master detectives and listen to the woman for once. I challenge the admins here to do their research and start to use fem pronouns to refer to her (if the HXH page can do it with Alluka, then this page can too). It especially got on my nerves when I tried making Sebagrell a het ship to respect her identity, and it all got undone. I don't care if it's a hot topic in the fandom. Go argue with a wall because I'm not willing to waste time on some creeps here. Grell is a queen and you must treat her as such. That is all I have to say.